UPSILON – AACR – 2008
ISO 133 – ICC 165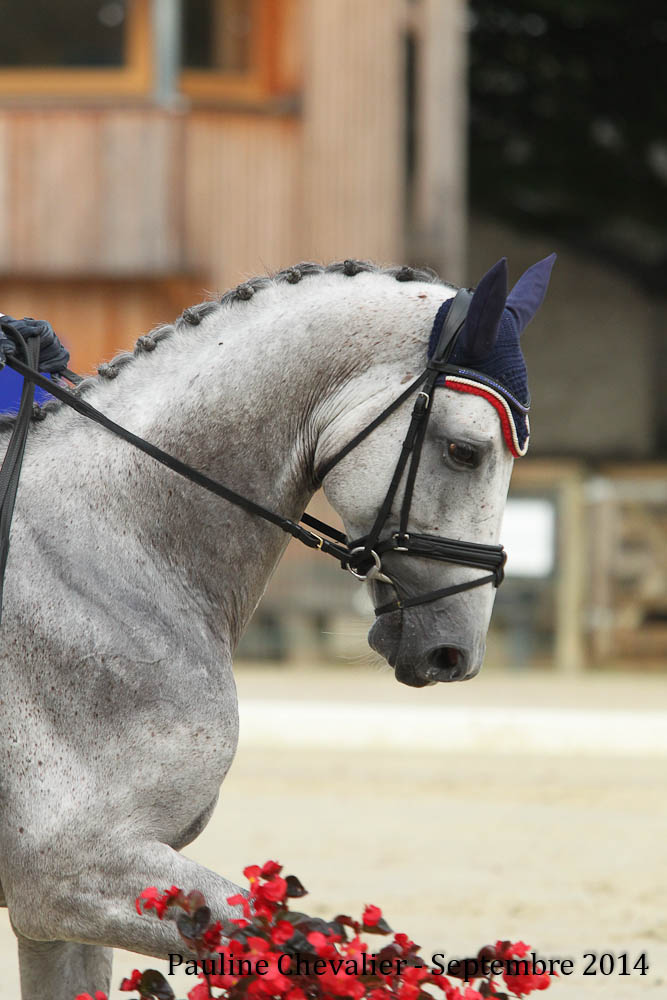 Presentation
Born in 2008. A son of CANTURO, participated at the 2004 Athens Olympics and winner of several CSI 5* (Calgary, Aachen, Madrid…). A renowned sire in Europe, in 2017 classed 29th best sire of show jumping winners in the world by the WBFSH. Product of the top Holstein bloodline and of a very good dam line with EM Giao (ISO139) who produced Triple Espoir (ISO 178),… 
His dam O'VIVE produced Vive (ISO 135) and Trouble-Fête (ICC156), 16th at the 2017 European Eventing Championships in Strzegom, the second highest placed French horse.
He has a handsome head, a stylish conformation of quality, a well attached neck and perfect limbs. He is a super, hyper generous jumper. He has very good paces and movement and passes those qualities on to his progeny along with his size, blood, respect and good temperament. He has served more than 670 mares since 2013.
In co-ownership with Thomas Carlile, his parents and Philippe Lacaze, Upsilon is the star of eventing, talented in each of the three Olympic disciplines.
Production
The first Upsilon foals have already made their mark!
In 2015, the first generation shone at the French Anglo Arab Championships: Falbala Casteras, Champion filly, Faipaci Faipaca 3rd. Fiston des Loges, Champion colt, Edelweiss Pompadour 2nd and Follow Me de Champeix 4th.
In 2016, Enjoy de la Noue was French two year old Champion with marks of 82% free jumping and 83% for her paces. Eau Vive de Brenne was 2nd, Ezekiel de Bagneux 4th.
In 2017, his youngsters again confirmed their dominance. Fistons de Loges and Enjoy de la Noue held their titles as Champions of France for their respective categories, each taking the highest marks for movement and paces. In the 'Espoirs de Complet', the French Young Event Horse competition for three year olds, Epsilon des Aubiers took the Champion title and had the highest marks for jumping (both free and mounted). Etoile de Béliard was 6th and Ephebe du Viallard 9th.
Results
2017
– 1st CIC3* Barbury Castle
– 3rd CIC3* Chatsworth
– 1st  Pro Elite (equivalent to Advanced) Saumur
– 2nd Pro Elite Pompadour
2016
– 1st Pro Elite at Saumur
– 4th  CIC3* Belton
– 2nd CCI3* Saumur
– 2nd CIC3* Gatcombe
– 1st  CIC3* Blenheim
2015
– World Vice-Champion 7 year old at Le Lion d'Angers
– French Vice-Champion 7 year old
– 1st Pro 1 (equivalent Intermediate) at Le Lion d'Angers
2014
– 5th World Championships for 6 year olds at Le Lion d'Angers
– French National Champion 6 year old
– 1st CCI* at Bazoges en Pared
2013
– French National Champion 5 year old
2012
– French National Champion 4 year old with a mark of 90% for style.
Origins
Canturo(DE) holst

Cantus(DE) holst
Caletto(DE) holst
Cor de la Bryere sf

Deka holst

Monoline holst
Roman(DE) holst

Usa holst

Fara holst
Calando I(DE) holst
Cor de la Bryere sf

Furgund holst

Ulara II holst
Landego holst

–

Fusain du Defey AA

Phosph'Or AA

Unicol'Or AA

Diane de l'Or AA

Jacinthe du Maury AA

Fol Avril AA

Jasione AA

Garce d'Aulix AA

Quatar de la Plape AA

Emir IV AA

Flore AA

Em Giao sf

Bouton d'Or AA

Ot Xang sf